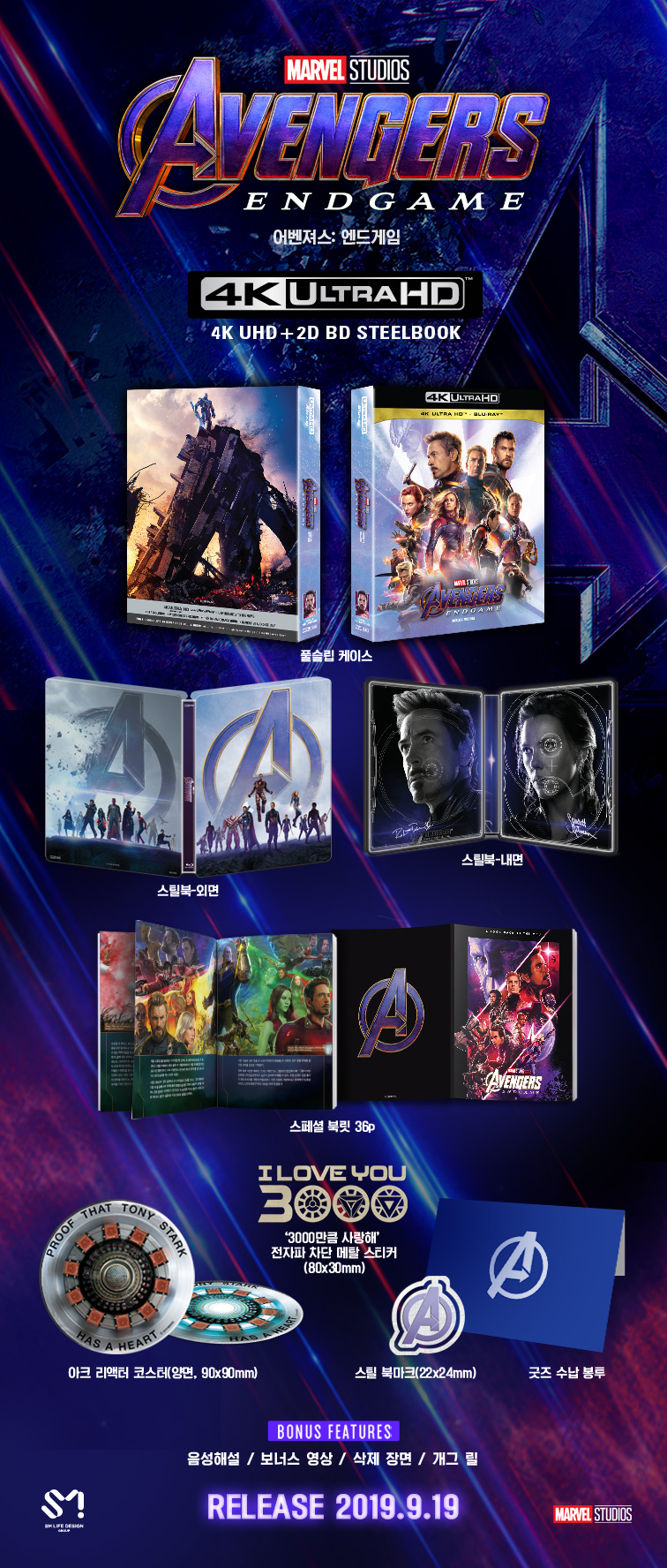 -Rating: 12
-Region Code: A
-Number of discs: 3
DISC SPEC
DISC 1 - 4K UHD 
• Languages: ENGLISH, DEUTSCH, FRANÇAIS, 粤語版本, NEDERLANDS, KOREAN, NORSK, SVENSKA, 中文
• Audio: ENGLISH DOLBY ATMOS, DEUTSCH 7.1 DOLBY DIGITAL PLUS, FRANÇAIS 7.1 DOLBY DIGITAL PLUS
• Subtitles: ENGLISH FOR THE HEARING IMPAIRED, DEUTSCH, FRANÇAIS, 粤語字幕, NEDERLANDS, KOREAN, NORSK, SVENSKA, 中文 
• Aspect ratio: 2.39:1 2160P UHD
DISC 2 - 2D BD
• Languages: ENGLISH, PORTUGUÊS, KOREAN, 粤語版本, 中文
• Audio: ENGLISH 7.1 DTS-HD MASTER AUDIO, PORTUGUÊS 5.1 DOLBY DIGITAL, KOREAN 5.1 DOLBY DIGITAL
• Subtitles: ENGLISH, PORTUGUÊS, KOREAN, 粤語字幕, 中文
• Aspect ratio: 2.39:1 1080P HD
DISC 3 - BD BONUS
• Languages: ENGLISH, ČESKÉ, NEDERLANDS, FRANÇAIS, DEUTSCH, ITALIANO, KOREAN, POLSKI, РУССКИЕ, ESPAÑOL, EΛΛHNIKA
• Subtitles: ENGLISH FOR THE HEARING IMPAIRED, ČESKÉ, NEDERLANDS, FRANÇAIS, DEUTSCH, ITALIANO,
             KOREAN, POLSKI, РУССКИЕ, ESPAÑOL, EΛΛHNIKA
• Aspect ratio: 2.39:1 1080P HD
* Bonus Disc
Remembering Stan Lee
The Beginning of Everything: Robert Downey Jr. Casting
A timeless person: Captain America Making
Black Widow: Her Story
The Russo brothers: The End Game's Journey
Women of the Marble Cinematic Universe
Thor's new look
Deleted Scene
GOJI BERRIES
BOMBS ON BOARD
SUCKIEST ARMY IN THE GALAXY
YOU USED TO FRICKIN' LINVE HERE
TONY AND HOWARD
AVENGERS TAKE A KNEE
Gag reel
Information
SPECIAL FEATURES
BD DISC
-Co-screenplay/director Anthony Russo & Joe Russo to start the movie with an intro.
-Voice commentary: Co-director Anthony Russo & Joe Russo and co-scripted Christopher Marcus & Stephen Paffrey.